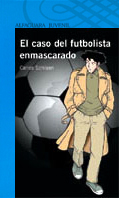 El caso del futbolista enmascarado
Pese a las impresionantes medidas de seguridad que protegen la mansión de un poderoso empresario, algo ha sido robado del cajón de su escritorio. Nadie se explica cómo pudo suceder, pero el desconcierto se acrecienta cuando la policía anuncia que el único sospechoso es un famoso futbolista. Nico, inesperadamente convocado para defenderlo, descubrirá que no será sencillo. Un hermético pacto de silencio ha sellado los labios de los protagonistas de esta intriga en la que las amenazas de muerte a su cliente, los oscuros negocios del fútbol y el misterioso objeto desaparecido son apenas pistas aparentes que ocultan la verdadera trama de la historia.
Alfaguara, Buenos Aires.

The Case of the Masked Soccer Player
In spite of the impressive security measures that protect the mansion of a powerful entrepreneur something was stolen from his desk drawer. No one understands how that could happen, but the bafflement mounts when the police announce that the single suspect is a famous soccer player. Nico, unexpectedly called to defend him, will discover that this is no minor undertaking. A silence pact has sealed the lips of the characters in this intrigue where the death threats to his client, the obscure business of soccer and the mysterious missing object are only apparent clues that cover the true plot of the story.

Alfaguara, Buenos Aires.